Supporting businesses in Somerset to grow and be successful now and into the future.
Kickstart Scheme
The Kickstart Scheme is a new Government initiative to create new 6-month job placements for 16-24 year olds who are currently on Universal Credit and at risk of long-term unemployment. The job placements will support the participants to develop the skills and experience they need to find work after completing the scheme.
Business Growth
HotSW Growth Hub The Heart of the South West Growth Hub is designed to help both new and established local businesses identify and access the best business support available. It provides independent diagnosis and referrals to business support services.
Cornerstone Mentoring If you are a business based in Somerset you can access the mentoring service, run by experienced business volunteers, for free.
Somerset Chamber of Commerce works hard to support local businesses by helping people and businesses connect, influencing and representing Somerset business and providing opportunities for businesses to grow.
For more information on starting your own business, visit the Employment page
Staff Development and Diversifying Skills
Skills Support for the Workforce Skills Support for the Workforce (SSW) is a programme developed to upskill employees within small and medium-sized businesses by providing recognised accredited qualifications and bespoke training.
Skills Support for Redundancy If your business is currently affected by redundancy, Skills Support for Redundancy (SSR) is an initiative designed to support employers and individuals affected by redundancy. SSR is a tailored service to meet your needs, offering a wide range of training support.
Seetec PLUSS support employers to recruit and retain great staff with a wealth of skills through their Work and Health Programme. You can also get advice on disability and health at work and the service is completely free. Download the Seetec Employer Information leaflet.
For more information on training for individuals, visit the Training page
If you are considering, or have decided to make, redundancies across your workforce visit the Redundancy support page here
Building a talent pipeline
Apprenticeships
If you would like to increase your workforce and encourage new talent into your organisation, offering an apprenticeship or a traineeship is the perfect solution. For free and impartial advice on offering apprenticeships including details of the recent employer incentives announced by the government, contact Skill Up Somerset
Industry Placements
All colleges in Somerset offer further education courses, some of which require students to complete an industry placement. Placements vary in duration depending on the course. For example, Level 3 BTECs often require the student to complete 150 hours, whereas T-Levels require 300 hours.
If you are interested in offering industry placements for local college students, visit the Somerset Education Business Partnership website here for more information.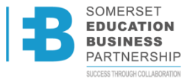 Somerset Education Business Partnership
Many businesses report difficulty recruiting work-ready and appropriately skilled young people. Somerset Education Business Partnership help you to build strong partnerships with schools, colleges and training providers in your locality – supporting you to develop a talent pipeline for your business.
Visit the website to find out more about the benefits of engaging with education as well as information on the latest changes to qualifications and what these mean for your business plus ideas for recruitment and information on industry placements and work experience.
Visit the website here